While the offensive contributions of Knights are limited at best, their monstrous defensive talent remains unsurpassed and their protective skills are essential to a party's success.
Wielding a one-handed sword in one hand for slashing the enemy, the Knight equips a shield in the other hand to knock enemies back, further alluding to the Knight's well-rounded versatility. Knights serve as stalwart tanks in their parties, responsible for the safety and well-being of their allies. Burdened with the crucial task of protecting others, the Knight calls upon the force of the heavens and blasts adversaries away with lightning.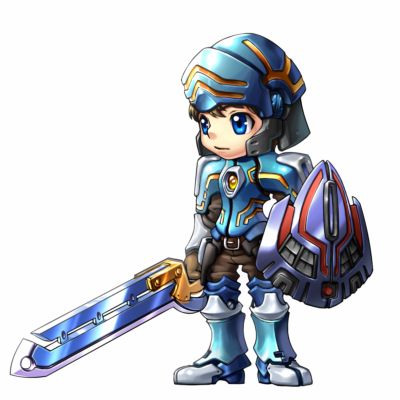 Original Attacks
Edit
Knights have two different kind of normal attacks. One is a vertical slash and the other one is a horizontal slash.
Vertical Slash
Edit
Horizontal Slash
Edit
Blood Lust (Active) Temporarily raises the knight's maxium health, but also decreases its defense.

Required Skill:

Required Skill Point:
Shield Attack (Active) Pushes away close enemies with your shield and deals moderate physical damage to enemies affected.

Required Skill:

Required Skill Point:
Magic Skin (Active) Significantly raises the team's defense attribute temporarily.

Required Skill:

Required Skill Point:
Tension Relax (Passive) A passive skill which permanently raise's the knights attack power and accuracy permanently.

Required Skill:

Required Skill Point:
Parrying

Required Skill:

Required Skill Point:
Strengthening Health (Passive) A passive skill which permanently raises the knights health recovery rate.

Required Skill:

Required Skill Point: 1
Divine Spaden (Active)

Required Skill:

Required Skill Point:
Clear Attack

Required Skill:

Required Skill Point: